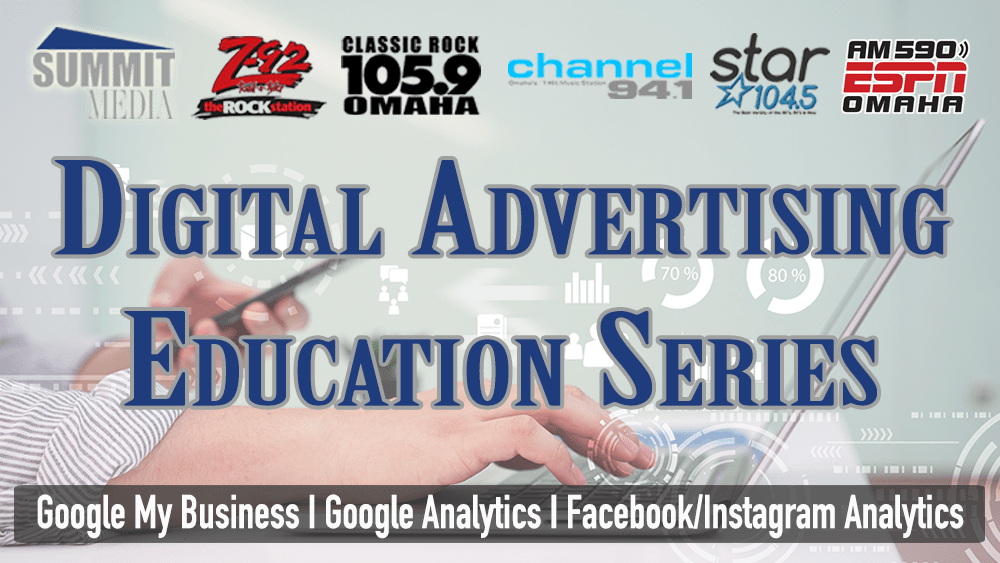 2020 has been an interesting time for all our lives…stock market hitting all-time lows…companies furloughing essential employees…toilet paper and cleaning product shortages nationwide…working and teaching from home…so for sure you have questions about how to properly promote your business during these uncertain times.
What should you be doing to promote your services online? Should you continue to have frequent social media engagement? Is your website optimization being affected by a temporary closure? How do you make sure that your company is still top of mind?
SUMMITMedia – Omaha has the education and digital solutions YOU NEED to answer questions that are probing you daily with a FREE online education opportunity.
Nationally Recognized Digital Trainer and Speaker, Katie Pray, will be conducting training seminars on June 1st, 2nd and 3rd  from 9:00 AM to 10:00 AM Central to help with your operating and management of your company's online presence.
Monday, June 1st 
WHAT LOCAL BUSINESSES SHOULD BE DOING NOW FOR SEO RANKING AND YOUR GOOGLE MY BUSINESS LISTING
Tuesday, June 2nd 
GOOGLE ANALYTICS: 5 REPORTS THAT WILL TRANSFORM YOUR MARKETING DATA

Wednesday, June 3rd
UNDERSTANDING FACEBOOK/INSTAGRAM POSTS, ADS, & ANALYTICS FOR YOUR BUSINESS
You can join us for these FREE ONLINE SEMINARS from the comfort and safety of you home office. We'll discuss Google Analytics and Facebook Insights and Advertising. Join us for one or both of these workshops we are offering exclusively to our local businesses in Omaha and Council Bluffs.