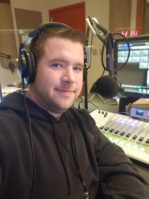 Jeff on Z-92
Hey what's up! My name is Jeff.
I was born and raised here around here. I started out with an internship in radio around the age of 20. I loved radio ever since.
My first career choice was television news, but then figured out you needed to be a good writer so I knew that was out. Then I wanted to be a weatherman but my dad sat me down and said "You don't want to lie to people every day do you?" So that changed my mind. So now I do radio.
Outside of Work I enjoy the outdoors as much as possible with my wife, and three kids. We do a lot of camping from April-September. I enjoy golf and drinking several different types of craft /IPA beers.
My favorite thing to do is taking vacations with my family to places we've never been before.
Big fan of the Huskers. Volleyball, Football, and baseball. I enjoy going to Hockey games, and CWS Baseball is my number one sport I like to attend in person.
I really enjoy discovering new music and new technology.
Follow me on Instagram: https://www.instagram.com/z92jeff/
Follow me on facebook: https://www.facebook.com/Z92JEFF
Follow me on twitter:    https://www.twitter.com/Z92Jeff
Thanks for stopping by!