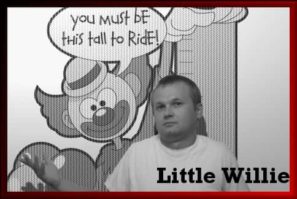 Little Willie
Born in the heart of Nebraska, an average baby, to an average family, destined to never be average again. By the end of elementary school, Will was bigger and taller then his classmates. Yet by the time middle school was over, grade school children were the only kids Willie was taller than.
Too tall to be a midget or "little person". Too short to be considered of average height. Forever stuck climbing on counters to reach the top shelf, but never hitting his head on low doorways. Always the one to "go in there and get that", no matter where or what it was. Yet, the right height to stare directly into a woman's chest.
Being short does have some advantages.
Little Willie can be heard weekends on the Z.